Bauer OD1N 1S Series
Please proceed to the Bauer Customizer by clicking the link below and build your desired equipment. At the conclusion of designing the gear, you will be provided a button on the left to SEND TO A DEALER. Please choose Behind the Mask Scottsdale as your preferred dealer. You are not obligated to purchase anything at this point. You may also simply email your design to yourself and to us by using the email button and using Rob and rob@behindthemask.com.
To use our customizer, CLICK HERE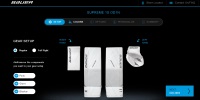 After a quick review of your order we will contact you immediately to discuss the ordering process.
Item is not eligible for any site-wide promotion.